To the very best of our knowledge – and we would certainly be shouting from the roof-tops if we knew differently – in all its long history Combermere Abbey has only once entertained an English or British monarch*.
The monarch in question was King William III, and only eighteen months into his reign he was on his way to fight a momentous battle; one of the last after the Civil War in which a monarch lead the nation's troops, and one which sealed the question of religion in this country for ever.
King William III
By the late 1680s the reign of King James II was stuttering to an end. He was to be the last of the four Stuart monarchs, largely because he had turned to Catholicism, urged on by his fiercely Catholic wife. This, together with his desire to maintain the absolutism of kings re-introduced by his brother and predecessor Charles II after his restoration, made him deeply unpopular – both among the ruling class and with the people, who had a deep fear and loathing of Papism.
The person who was next in line to the English throne was William, Prince of Orange of the House of Orange-Nassau, and a broad collection of the great and the good in the English political class invited him to 'invade', depose James II and take the throne.
William's claim to the throne of England was solid. He was the oldest great-grandchild of James I, and was married to a first cousin – Mary – was the next-oldest great-grandchild. More importantly, as a member of the House of Orange he was very definitely a Protestant. William relished a life-long feud with King Louise XIV of France, which further endeared him to the English, of course.
An army was assembled in the Low Countries through the summer and autumn, and on November 5 1688 – with the mischievous French safely distracted by wars with both Germany and Italy – William and his followers landed at Brixham in Devon. It was no coincidence that it was Guy Fawkes Day. The thirty eighty year-old Prince had around 11,000 men at his command, in addition to 4,000 cavalry.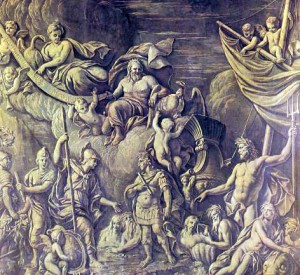 The Arrival of William III at Brixham by Sir James Thornhill
James rapidly saw that abdication was inevitable, and on December 23 he was allowed to travel to France, where he died in exile. William and Mary were crowned in Westminster Abbey on April 11 1689, and a new era of democratic and accountable monarchy began.
A contemporary engraving of William and Mary
The deposed James Stuart made one more stab at regaining his throne. With French assistance he landed in Ireland in the summer of 1690 to raise a Jacobite (of the House of Stuart) force, and backed by Roman Catholic Irishmen he started to plan an invasion of England. King William had an army of 20,000 already stationed in Ireland, but he wasted no time in raising a further 16,000 and rushed to cross the Irish Sea. He was an experienced military commander and there was never any doubt that he would lead the troops.
On his way from London to the coast the King stayed at Combermere Abbey for one night in June. He would have been accompanied by his closest officers (while the army itself marched on – rather more slowly). It is very interesting indeed that he chose to honour the Abbey with his presence, and the reason for that was his closeness to the-then owner of the estate, Sir Robert Cotton, Baronet.
Sir Robert's father, Thomas, died in 1646, aged thirty five, at the height of the English Civil War. We do not know if he died as a result of the war; if that had been the case one suspects that the fact would have been documented. He was certainly a Royalist and held the Abbey for the Crown; most likely rather quietly, keeping his head down and doing what he could to ensure that his family's fortune survived The Commonwealth.
Robert was eighteen years old when Oliver Cromwell announced himself to be Lord Protector, and in adulthood he became a Whig politician. After the Restoration of 1660 he was a close county ally of Henry Booth, Lord Delamere and Earl of Warrington, of Dunham Massey, who was one of the leading campaigners for the removal of James II and the institution of William and Mary.
In the year of the Restoration Robert was knighted by Charles II, which indicates considerable service to the king by that point. We know that, as a young man, he was in France between 1651 and 1655, which begs the suggestion that he was part of the court in exile. Nothing could have been more natural for a loyal member of the Royalist gentry. In 1677 he was elevated further when he was created Baronet.
Robert married the heiress Hester Salusbury of Llewenny in Denbighshire (with whom he was to have sixteen children) in about 1658 (so when England was still under Cromwellian control, which confuses the picture a little; he must have been in England and under no restriction). This marriage massively increased both his wealth and his political influence. In 1689 he was appointed Steward of the lordship of Denbigh. Created in 1284 by King Edward I, the Lordship of Denbigh was an important post as the holder was one of the Marcher lords, with control over lands which were quasi-independent, being neither England nor Wales. Elizabeth I appointed Robert Dudley, Earl of Leicester to the post, and the holder today is Queen Elizabeth II as the honour reverted to the Crown in 1696.
Records tell us that the King stayed at Combermere Abbey for just one night; Friday June 6. He would have not been inclined to linger; he was making for Ireland with all speed. It is no great leap of imagination to see King William and his officers, all dressed for military action and armed, arriving at the Abbey – then still a largely half-timbered Tudor mansion – perhaps late on that mid-summer evening, being welcomed and refreshed before being shown to their beds. The King had his own chamber but depending on how many others were with him, they might have been put up in crowded temporary bunks inside the house, or even had to bed down in servants rooms or public rooms. Many servants – in the King's and the officers' service, or the Abbey's staff – might well have had to sleep in the stables and other outhouses. There might have been more people in and around the Abbey than at any other point in its post-Dissolution history.
In the morning the party would have dressed and gone to horse early, perhaps even at daybreak, grabbing what breakfast they could. The royal party was heading for Hoylake on Wirral,  from where ships were waiting to take them to Ireland. On the Saturday they only travelled as far as Peel Hall, seat of Colonel Roger Whitley, a few miles north west of Tarporley (Whitley had been a Royalist commander during the Civil War and was a Member of Parliament between 1660 and 1690 – for first Flint, and then Chester). On the Sunday morning the king and his retinue attended a service at Chester Cathedral; the bishop preached an appropriate sermon with the King, rather than His Grace, seated on the episcopal throne. they pressed on to Gayton Hall near Heswall, where King William knighted its owner, William Clegg (soon to become Lord High Sheriff of Cheshire), before departing  for the port of Hoylake.
We can be certain that as the King left Combermere Abbey he was wished all God's speed and good fortune by the loyal household. If there was to be a return of the Stuart dynasty it would be very bad news for the Cotton family.
It was, in fact, to be a very definite victory for King William when he met James Stuart. Their encounter was The Battle of The Boyne, which took place on July 1 (in the Julian calendar; July 11 in the Gregorian) by a strategically important ford on the River Boyne, on the road to Dublin, near Drogheda in north eastern Ireland, equidistant between Dublin and what is now the border between the Republic and Northern Ireland.
James' had only 23,000 men; mostly Irishmen who were untrained and poorly equipped – in many cases, armed only with farmyard implements. James had some professional French troops in his number, while William had men from England, Scotland, the Netherlands and Denmark. Many of the Dutch and Danish infantry were equipped with modern flintlock muskets.
The Battle of the Boyne, by Jan Van Hutchtenburg
The day almost started disastrously for the Protestant army. William was hit by a musket ball fired by an enemy sniper, but he was only slightly wounded and he carried on regardless. His courage and the very fact that – by God's grace, of course – the ball had inflicted only slight damage – boosted his men's morale.
The fighting was reasonably even-handed for a while, but James's army was given a premature order to retreat. This demoralised the Catholic men and the formation broke as every man ran for his life. The Stuart cavalry fought a brave rear-guard action which meant that many were able to escape, and few of the fleeing soldiers and volunteers were cut down as they fled – which is when large numbers (and sometimes the majority) of casualties occurred in battles of this period. In total there were more Protestant wounded that Jacobite, but James's side saw more dead. That total was low however – perhaps 2,000 – considering the total numbers on the field.
King William left troops in Ireland to deal with any further uprisings, to harry the survivors of the battle and make sure that they didn't re-group, and to bring to trial those who were to be accused of treason (though he was very lenient in his treatment of the majority of the Catholic army; the subsequent Treaty of Limerick allowed the rebels to keep their lands so long as they swore allegiance to William). Meanwhile James fled into exile in France, and died there in 1701.
The King lost no time in returning to his capital. It was reported that by September that Sir Robert Cotton was suffering from a severe fever, but he had recovered sufficiently to attend the new parliament the following month. He was doubtless greatly relieved by the outcome of the campaign and heartened by how highly he stood in the King's estimation.
Sir Robert Cotton died in 1712 at the age of seventy-seven, and was succeeded by his eleventh child, Thomas – though he only lived for a further three years though, dying in June 1715. Thomas had married Philadelphia Lynch, daughter of Sir Thomas Salusbury of Llewenny, Denbighshire, and they also had sixteen children (though more of their children survived to adulthood than in the previous generation). Thomas was succeeded by his twenty year-old son, who became Sir Robert Salusbury Cotton, Baronet.
Although it wasn't the last Jacobite uprising – those rumblings ran through until the Battle of Culloden in 1746 – the Battle of the Boyne ensured that England and that Britain would have a Protestant monarchy for all time. It is of course remembered more in Northern Ireland than in the rest of Britain; the Orange Order takes its name from it, and it is commemorated by Protestants every July. King William III is recalled heroically as King Billy by Protestants in Northern Ireland and some parts of Scotland to this day.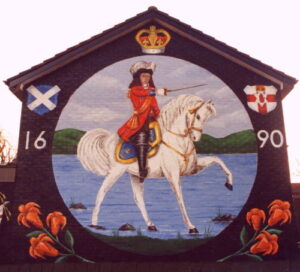 A Loyalist mural in Northern Ireland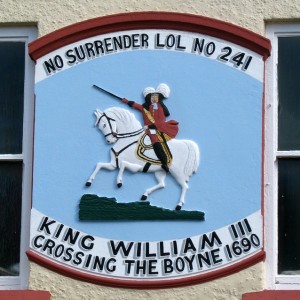 A relief of King Billy on an exterior at a Northern Irish Orange Lodge
* In July 1310 King Edward II (king from 1307 to 1327, when he was deposed; considered murdered September 1327 at Berkeley Castle) made a circuit of Cheshire and visited Nantwich, Chester, and the abbeys of Norton and Vale Royal. He was in the county for almost the entire month. It is possible – perhaps even likely – that he visited Combermere Abbey, especially as it would have been on his route as he travelled to and from the county from the south. He certainly rode from Chester to Nantwich on July 2, and writing in the mid-Nineteenth century the Cheshire historian James Hall suggested that the King had visited Combermere Abbey.  It would have been quite a snub to Combermere if the King had visited Chester (a Benedictine monk of Saint Werburgh's in Chester, Ranulf Higden, wrote a long and detailed account of the King – and his weaknesses), Vale Royal and Norton – all the great monastic houses in the county – but not Combermere, which was of the same size. The Abbot in 1310 was one Robert.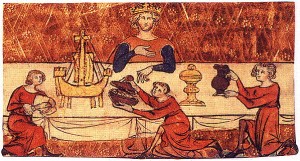 King Edward II at his table. The ship was probably a novelty confection.