Almost three centuries ago a craft blacksmith working in Derby created a masterpiece; one which would long out-live him, and indeed, would cross three thousands miles of ocean.
Some time around 1730 Robert Bakewell was commissioned by the Cotton family of Combermere Abbey to create a magnificent pair of gates and supports for the entrance to the estate. We do not know what the budget was – but it must have been considerable – nor how long it took Robert to create the commission. What we do know is that his work was of the very highest standard imaginable.
The gates stood at Combermere for almost two hundred years; until 1919. In that year they were sold by the then-owner of the Abbey, the fourth Viscount Combermere. The Viscount also sold the estate in its entirety that year – to Sir Kenneth Crossley, great grandfather of Sarah Callander Beckett, the current owner – the only time in the estate's 880 year history that it has been bought and sold.
Viscount Combermere was selling up because, to put it bluntly, the family had run out of money and simply could not afford to carry on living there, and he indulged in a little asset stripping before the Crossley family took over. There was an estate sale at the Abbey, with a huge number of lots auctioned off to the highest bidder. Sadly we don't know where almost any of them ended up, but the one fact we do have is that architect George A Crawley from New York bought the gates and supports for a client. He had them restored by the very highly regarded metalworker John Starkie Gardner (author of the book 'Ironwork In The XVII And XVIIIth Centuries', first published in 1907 and frequently re-printed – right up to a 2013 edition).
We have no idea how much was paid for the gates, either for the purchase or the restoration – wouldn't it be interesting to know? – but money was no object to Crawley's client. That was Jay Phipps, who wanted them to grace the entrance to his recently-completed house on Long Island, New York.
John Schaffer Phipps – born in 1874 and always known as Jay – was the son of Harry Phipps, who for many years was in partnership with the ex-patriot Scot, Andrew Carnegie. They grew up next door to each other, were business partners and life-long friends, and became neighbours again in Manhattan many years later.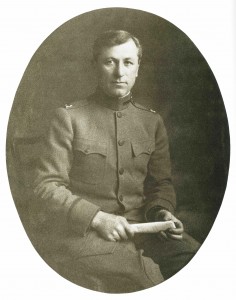 Jay Phipps photographed during the First World War
In the early years of the Twentieth century Jay Phipps, who was very much an Anglophile, having gone all the way to Battle Abbey in Sussex to get married to his wife, Margarita, commissioned a new home for his family from George A Crawley. It was to be built in the style of a post-Restoration English country house, and would be set in two hundred acres of formal gardens, woodland, lakes and ponds. It was to be a scene which would have been familiar to Reynolds and Gainsborough – but within easy reach of New York City.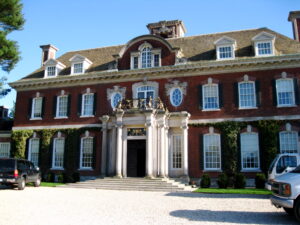 71 Old Westbury Road, Long Island; inspired by the English country house built in the last quarter of the Seventeenth century
The house was finished in 1906, and had the address 71 Old Westbury Road in Westbury county – named after the town in Wiltshire by its Quaker settlers in the Seventeenth century. It was for the main entrance to this house that Jay Phipps wanted the Combermere gates.
The Combermere gates stood magnificently at Old Westbury Road until 2005, during which time Jay Phipps' daughter, Peggie Phipps Boegner, made the house and gardens over to a not-for-profit charity in 1958, and old Westbury Gardens, as it is now known, was opened to the public and for a wide range of events.
Nine years ago the gates were again in need of attention, so they were taken down and given into the care of the New Jersey-based firm of Les Metalliers Champenois. They specialise in the restoration of historic metalwork, as well as the creation of new, bespoke pieces. You can see a gallery of their work at www.l-m-c.com.
The restored gates being re-installed at Old Westbury Gardens
The gates were duly re-erected at Old Westbury Gardens, and again create a magnificent first impression for visitors. If you are visiting the New York area, the Gardens are just a small distance from the city and are well worth a visit. The whole place, house and gardens, is an oasis of English style – framed by the glorious Combermere gates (for more details on the house and gardens go to www.oldwestburygardens.org)  . . . and much as we would like the gates back, I'm sure we couldn't afford them, and Old Westbury Gardens would never part with them!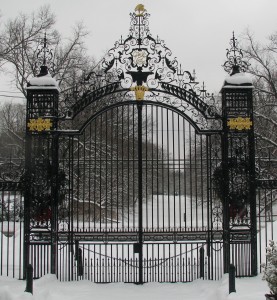 The gates in all their glory, and in a Long Island winter!
There is an interesting coda to the story; a letter from J Starkie Gardner was published in Country Life magazine in the edition dated November 29 1919. He starts by alluding to his book, and goes on to lavish praise on Robert Bakewell. Bakewell's ambition had been to "emulate and rival" the work undertaken by the French craftsman Jean Tijou at Hampton Court Palace between 1690 and 1700. Robert Bakewell had also seen Tijou's work at Chatsworth in his native county. That influence was first seen in the "richly wrought dome and facade with gates for a garden house at Melbourne in Derbyshire" in 1707. Gardner also mention's Bakewell's gates and piers "originally fixed at Wingsworth in Derbyshire, but since bought to Saville House, Leicester Square, and finally re-fixed at Penshurt by order of the late Lord de L'Isle". The Combermere gates, Gardner says, were "even more important". He himself had assumed them to be Bakewell's work when they first arrived in his workshop, but it was his wife who had spotted Bakewell's mark in the form of his initials.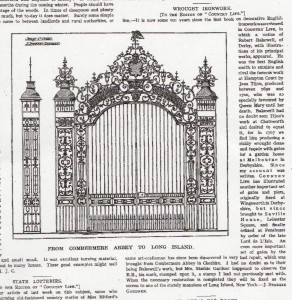 John Starkie Gardner's letter in Country Life, together with an illustration of the gates and piers
All photos: Vince Kish, Old Westbury Gardens, Long Island – to whom go many thanks for his help. Image of Jay Phipps is Courtesy of Halcyon Days by Peggie Phipps Boegner and Richard Gachot.