We know the names of all the great men and women who have lived at Combermere Abbey over the past nine centuries, but – other than those who appeared in the censuses from the mid-Nineteenth century onwards – very few of the names of the lower orders; the servants and workmen who made their living in the house or on the estate.
Of the few we can identify though one was John Jenyns, who was a tanner working at the Abbey. This was dirty and smelly work, and Jenyns would have been low down in the Abbey's pecking order, and not someone to sit next to in the refectory. We know his name though because he was accused of the murder of one of the monks in 1520, so his identity is preserved in history (and the actions of the Abbot at the time suggest that he was indeed guilty). Two hundred years later we have the name of another of the Abbey's lower orders; Ralph the Fisherman. For reasons we can only guess at his name – and his alone – was included on the oldest known map of the estate. And then there was Thomas.
He was Thomas le Plumer – Thomas the plumber. He seems to have lived in Nantwich in the Thirteenth century, and was responsible for maintaining the water courses on the Abbey buildings. Although he was a common tradesmen he was one of great note, because he appears again, working on King Edwards I's castles in North Wales; he was definitely employed at Conwy Castle – and, not far from Combermere, he worked on repairs to Beeston Castle which were undertaken in the first decade of that century. He worked there alongside Hugh de Dykemoke, whose responsibility was the ditches and ramparts; Ithel the smith (particularly interesting because he was Welsh); and – far more prestigious and better paid – Richard l'Enginour (engineer). Thomas was a skilled man, and his weekly wage would have been much higher than that of a mere labourer – perhaps as much as three pence a day (when a pig would have cost three shillings, and a cow ten shillings).
Thomas's work would, primarily, have been channelling the clean water coming into the building, and foul water going safely out. Although wood was used for pipes, the medium of his trade was lead. Equally, it was his responsibility to ensure that rain water flowed off the roof and into the drains (and from there into the mere); whether it was stone, timber or brick, rain has always been one of the most damaging elements for any building, and the men who built the great Abbeys of western Europe certainly knew that.
'Plomb', as anyone who has filled up a car with fuel in France will know, means lead ('sans plomb' – unleaded) – from the Latin 'plumbum'. Therefore, a plumber was a man who worked in lead. These days plumbers tend to work in plastic, but on buildings of historical importance such as Combermere Abbey it is still lead that is used to channel rainwater and move it safely off the structure.
Lead is malleable and easy worked, but is strong once formed, and – importantly – water-proof. It is also very heavy; one cubic foot of lead weighs around 500 lbs, which is two and a half times the weight of an average adult British man. It was first used by humans in modern-day Turkey around 6400BC, and it was extensively – and very skilfully – used for water courses and taps by the Romans.
Thomas's Twenty First century counterparts at the Abbey is a father and son team, Steve and Paul Hempstock from Poynton near Stockport. Steve formed his company, Northwest Lead, back in 1992, and now has all of forty years experience in the business.
Over the years he has undertaken a large and impressive number of projects on buildings of historic and architectural importance, working for English Heritage, the National Trust, the Church of England, and local authorities – as well as privately-owned houses such as Combermere. They include Sudbury Hall, Derbyshire, Keddleston Hall, Derbyshire, John Rylands Library, Manchester, Attingham Park, Shropshire, Shrewsbury Castle, Dunham Massey Hall and Lyme Hall. Although they operate mostly in the North West and the north Midlands, he and Paul have worked all over the country. As well as lead and plastic, they utilise copper, zinc, stainless steel and aluminium (all of which would doubtless have astonished, and then delighted, Thomas le Plumer).
Steve's father, James, was a master plumber, so Paul is now a third generation craftsman in lead. That notion of the work being a true craft was behind the formation of the Lead Contractors Association, which was created in 1985, and which Steve joined two years later – and of which he has been on the Council for twenty six years, and been its Chairman twice. Its purpose is to constantly improve the standards of lead workers in the construction industry, and monitor and regulate its affiliated companies. The Association is held in great respect for this work, and organisations such as English Heritage and the National Trust, as well as professionals in the heritage renovation industry such as architects, turn to its members as their first port of call.
The UK, Steve says, is probably the world's largest user of lead in construction and conservation, relative to its size. Of all the work he has undertaken over the decades, two which he thinks of in particular are domes – where complex curves present even more of a challenge than relatively straight forward work such as at Combermere. His company's work on the dome at Birmingham Art Gallery won them The Murdoch Award in 2012 (described as "the ultimate accolade in lead-work" – which North West Lead also won in 2010), and the dome of the church at Sir Titus Salt's model village of Saltaire in Yorkshire.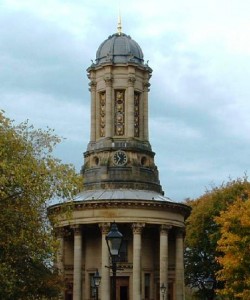 The tower and dome of Saltaire church. The new lead on the dome is Northwest Lead's work
At Combermere Abbey the firm used around three tonnes of lead, of which about 90% would have been recycled from previously used and salvaged lead, and the firm's men were on site, on and off, for eight weeks. By their standards it wasn't a particularly big job. When we spoke to Steve he was looking at what would be a far larger job at the mighty mansion of Chatsworth in Derbyshire (which he feared might be too big for his firm, in fact), and a job at Thornbridge Hall, also in Derbyshire – which dates from the Twelfth century but was re-built in the mid-Nineteenth century.
As I say, the great houses Northwest Lead has helped to conserve is huge: At Sudbury Hall in Derbyshire, the National Trust's Seventeenth century treasure of a house (and previously the home of the Lords Vernon), North West Lead used more than sixty tons of sandcast lead in the restoration of the Victorian Wing, incorporating a unique eaves ventilation system, with removable panels in the flat roof sub-structure so that the underside condition of the lead could be frequently monitored.
In Liverpool, working in conjunction with City of Liverpool Architects Department, Steve created four French pavilion roofs for the Municipal Buildings, each being covered with eighteen tons of lead. The job also involved the renewal of all the linking roofs and a large first floor roof in the centre of the building as a light well to the ground floor public areas. The astonishing total of one hundred and sixty tons of milled lead was used on this project.
Over at the Manchester Museum in Manchester City Centre, Steve and Paul made around nine hundred lead-clad panels were manufactured in their workshop, which were delivered to site and fitted to the four elevations of the museum's new extension. On this job Northwest Lead worked in close conjunction with Ian Simpson Architects to create an aesthetically pleasing and technically correct installation. It was essential to ensure that the panel surfaces were blemish-free as all the lead was supplied on pallets, cut to size and in flat sheet rather than rolls, with the corners of each panel folded by machine.
As Steve says, the materials used in the lead-workers tools have changed, but not their shape and form. If Thomas's ghost had been walking the ramparts of the Abbey in the late spring of 2015 he would certainly have recognised what Northwest Lead's men were about, and the way in which they were going about their work.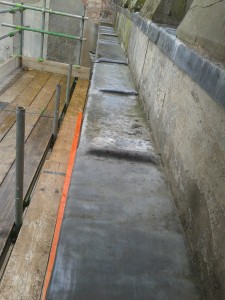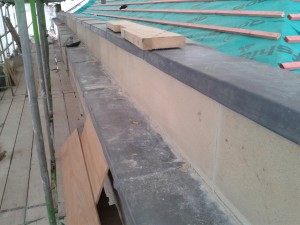 At the very top of the building, at roof level, the cappings are all covered in lead to avoid rainwater ingress into the walls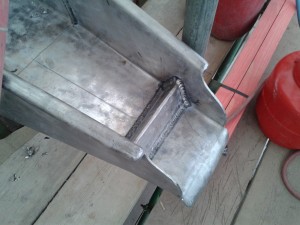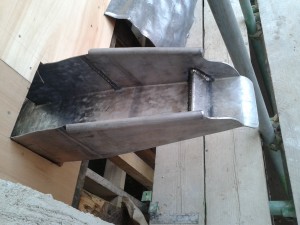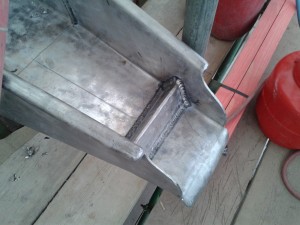 These bespoke water shutes are hand-made in lead, and throw excess rainwater clear of the sides of the Abbey. The shutter acts like a weir to slow the water. Each of these rather beautiful fittings in more than four feet long (and very heavy!)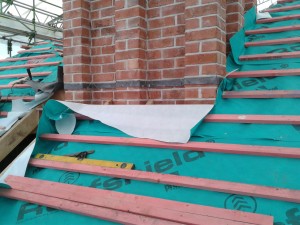 The craftsmen have built weather strips into the brickwork of the chimney, which will form a seal with the roofing materials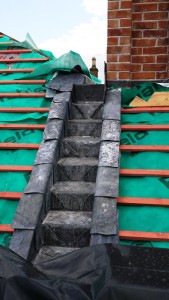 These beautifully-made steps lead up to the chimney close to the northern corner of the roof, giving access for maintenance. Soon newly-laid tiles will overlap the lap on left and right