On April 24 1854 Her Royal Highness Duchess Elisabeth Amalie Eugenie of Bavaria joined a remarkably exclusive club. She moved even further up the aristocratic tree by marrying Emperor Franz Joseph of Austria of the house of Hapsburg-Lorraine on that day – and thus, at the age of sixteen, became an Empress.
Born on Christmas Eve 1837, Elisabeth – always known as Sisi within her family – was never meant to be Empress. That role was ascribed to her elder sister Helene, but Franz Joseph was enchanted by Elisabeth from their very first meeting, and he defied his terrifyingly fierce mother, Ludovica – just as Elisabeth defied her equally terrifying mother – who had marriages in mind for all her three daughters almost from birth
Their engagement was announced within five days of that first meeting, and they were married eight months later. Two daughters were born within the following two years, but the early death of the elder, Sophie, caused Elisabeth to sink into a depression – which recurred throughout her life. In 1858 she gave birth to a son and heir for Franz Joseph, Rudolf. By then the marriage was under great strain however, and husband and wife began to lead separate lives.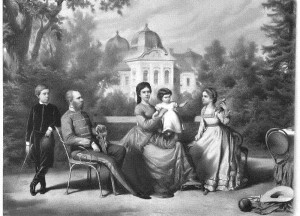 The Empress with her husband, two of her three daughters, and (on left) Rudolf, their son and the heir to the title of Emperor.
The Empress's great passion was equestrianism and in particular hunting, and this became her raison d'etre. She rode every day and hunted whenever she could. She rode side-saddle, as decorum demanded, and was a highly skilled rider. Her hunting style was not to merely follow the rest of the field; she was a thruster, always up with the leaders.
Elisabeth was a very handsome women; tall and slim. She made the very best of that fact; she wore her stays very tightly to emphasise her figure, and was sewn into her riding habit every morning by her seamstress, to best show off her curves even in the field. Despite having been trained in riding side-saddle in the Spanish School in Vienna, spills were almost inevitable, but as she said; "I don't mind the falls but I will not scratch my face".
The Empress hunted in England and Ireland frequently, and was entertained lavishly, as befitted her rank. When in Ireland she rode incognito as it was feared that she was at risk of assassination.
In 1881, wanting a spend the season in England, she agreed to rent Combermere Abbey from Viscount Combermere, who had to go to the West Indies to administer the estates his father, the first Viscount Combermere, had amassed while he was the Governor of Barbados.
The rent agreed was £600 a month but that was relatively insignificant compared with the cost of building extra sidings and a regal waiting room at Wrenbury railway station, about four miles from the Abbey. The Empress travelled with such a large retinue and so much luggage that a special train was hired. The modifications to the small rural station cost the enormous sum of £10,000 (equivalent to perhaps £1.5 million today). No trace of these improvements can be seen at the tiny, unmanned station at Wrenbury today. The Empress would have been arriving on the south-bound line, from Crewe station, so it is safe to assume that the sidings and the imperial waiting room were on the eastern side. Nowadays there is a small business park there, which will have obliterated any evidence.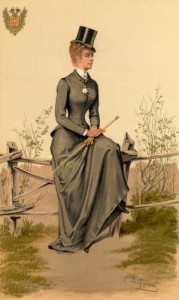 A newspaper illustration of Elisabeth in her riding habit, dating from 1884. She was famous across Europe for her equestrian skills.
A contemporary account of her arrival notes: "The Empress of Austria left Vienna on the 17th [February 1881] and will arrive at Wrenbury station for Combermere Abbey on the eve of the 20th. Her Majesty will be accompanied by Prince Liechtenstein, Countess Festetics, Baron de Nopsca, Herr Aiuger and her secretary Herr Firfallach. We understand that Her Majesty will hunt chiefly with the Cheshire hounds and those belonging to Mr Watkin Williams-Wynn. Eight of the Empress's horses arrived at Whitchurch station on the 30th ult. from Ireland and were at once taken to Combermere Abbey. Other horses from Vienna are expected. Major Bulkeley, Oak Cottage, Whitchurch, will pilot Her Majesty and will have the management of the horses and stabling."
Given that Lord Combermere had thirty six horses of his own in the stables at Combermere the equine accommodation was rather stretched, and some of Combermere's mounts were stabled a few miles away in Whitchurch. The Empress brought no fewer than twenty five grooms with her – out of a total personal staff or eighty.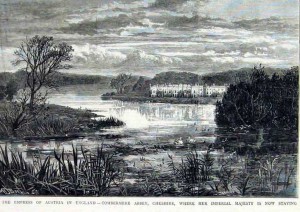 The Empress's stay at Combermere Abbey was national news. This contemporary print is captioned; 'The Empress of Austria In England – Combermere Abbey, Cheshire, Where Her Imperial Majesty Is Now Staying'.
Elisabeth had a 'pilot' when she hunted in England and Ireland by the name of Captain William George Middleton, who was always known as Bay Middleton. Scottish by birth, he arranged every aspect of her hunting and was always at her side throughout. They were rumoured to also be lovers but there is no evidence for this.
Accounts actually vary as to when she arrived at Wrenbury – some say February 15 rather than 20 – but Bay Middleton was certainly there to meet her. Her entourage had travelled on ahead, and the Abbey had been considerably re-arranged. Rooms had been re-furnished to create an imperial bedroom, a sitting room, bathroom, gymnasium (the Empress had a strict and vigorous exercise regime for the days when she could not hunt), dressing room, and even a Roman Catholic chapel. Other rooms were set aside for her staff, of course, and some of these had to be quite grand; her-lady in-waiting, Countess Marie Festetics, was housed in the bedroom once occupied by William of Orange, and found it not at all to her liking.
Alterations at Combermere went even further. The Empress wished to take her meals in her apartments, unseen by others, and she also wanted her meals served hot. Thus a completely new staircase was built, just for this purpose – though we don't know at what expense!
A number of her own servants travelled to England with the Empress. The census of 1881 was compiled while she was renting the Abbey, and along with the existing staff, details of a number of Austrian and Hungarian nationals were recorded. Only their names and ages were noted, otherwise they were categorised as 'servant' (whereas the English staff were given exact job titles, such as kitchen maid, laundry maid, footman, and so on) or, more engimatically, 'visitor'.
The Empress kept her weight down (to never more than a hundred pounds avoirdupois (and her waist of a maximum of twenty inches) with a fierce diet, as well as by exercising. She not only brought her own servants and horses to Combermere, but her own cows too, believing that their milk was unrivalled (something of a slur on the dairy cattle of Cheshire!). She washed her hair in cognac laced with onions and Peruvian balsamic, and at night slept in hot towels, and with a mask of raw veal on her face. Her face cream was made up of purified honey and strawberries.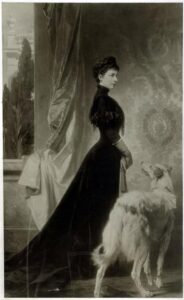 The Empress with a favourite wolfhound. She was understandably proud of her twenty inch waist, and worked hard to maintain it.
The Empress managed to hunt on twenty two days out of a possible twenty eight through the rest of that season. She was faced with water-logged fields and deep snow on the other days. She complained that the fields around the Abbey were too small, so that she couldn't get her mount into a decent gallop, and that the hedges weren't high enough and were therefore not a great enough challenge. Major Rivers-Bulkeley, who lived in Whitchurch, often accompanied her as a second pilot.
Her social calendar was as busy as her hunt card. Bay Middleton accompanied her to Aintree race course where they saw Tommy Beasley on Woodbrook win The Grand National (I doubt that she will have thought those fences too small). Woodbrock was owned and trained by an old Irish friend, Harry Linde, whose stables at The Curragh she had visited the previous year.
She paid a visit to the Grosvenors at Eaton Hall (the Duke of Westminster), and the Williams-Wynns at Wynnstay Park (famously sponsors of their own hunt).
Ellen Harriet Tollet, whose father owned Betley Hall – east of Combermere and just into Staffordshire – watched the Empress hunt on February 25 wrote to a friend (also called Ellen, it seems);
"My dear Ellen
We had a great meet at Woore to see the Empress jump. Cartlick is splendid about the reception at Woore Hall where H.M. put on her habit, her manner Mrs C says was "most queenly". She is still a pretty looking woman with a fine figure and an awfully tight habit, so tight, she descended the stairs at Woore Hall sideways, she could not walk straight in her habit.
She was I hear very civil to Margaret in the hunting field whose horse she slightly cannoned when at Wrinehill and took 1st opportunity to come up to apologise, talking English perfectly. The funniest thing was her enormous orange fan which she used out hunting, when at a check. Where she kept it I don't know. She gave £200 to the United Hunt races near Whitchurch yesterday and was present galloping about with her fan up.
Yours aff, E HT"
The reference to the stairs at Woore Hall relates to Elisabeth's insistence that she should have the use of the house of a member of the gentry (at the least!), during every hunt so that she could change her clothes, and be sown into a fresh garb, should she so require. A groom and a lady's maid would already be waiting at the rendezvous. The result was very impressive, as Ellen Harriet notes, but a little restrictive, to say the least. There is an account of a tailor having to be brought from Whitchurch to do the sewing-up.
It was obviously an occurrence of great note to have an Empress hunting across the Cheshire/Shropshire/Staffordshire landscape. Unsurprisingly for the age, Elisabeth did not have a common touch. She had a leather fan (perhaps the one Ellen alludes to), the strap of which looped over her pommel, and would hide her face from gaze when members of the lower orders were in view.
The Empress took the Abbey again the following year but records do not survival, sadly. In recent times some local families searching archive censuses have been surprised to find that their predecessors were recorded as being employees of an Empress of Austria – particularly as grooms or other stable workers. Elisabeth's visits explain these imperial connections.
It is said that in 1882 she returned the hospitality extended to her by local aristocrats, but only invited the husbands to visit her at Combermere, and dine; not the wives. As a result of marital pressure few men were brave enough to accept the invitations.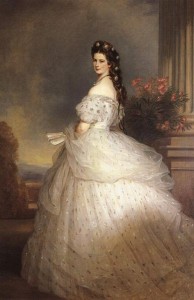 The best-known portrait of Elisabeth, by Winterhalter (1865).
The Emperor forbade his estranged wife from visiting Ireland again as her presence, as a Catholic, was thought to be an encouragement to the Fenians. Soon she was prevented from riding by sciatica, which must have been a dreadful blow. Worse was to come: On September 10 1889 her only son, Rudolf, committed suicide in a lodge in the small village of Mayerling in lower Austria, having first shot his beloved Baroness Marie Vetsera. His father had refused to allow them to marry. This tragedy tipped Elisabeth into a very deep depression from which she never recovered. In 1898 she herself died, the victim if an Italian assassin, one Luighi Lucheni, who stabbed her with a sharpened file.
Her visits to Combermere made her the Abbey's most distinguished guest – out-ranking a mere King, of course. The Empress left us her quotation, that she thought Combermere Abbey to be "the most romantic place in all Europe", for which we are grateful.
Thanks to the kindness of the Dowager Lady Combermere we have seen a scrapbook of cuttings regarding the Empress's stay at the Abbey. The album as bought is entitled 'Newspaper Cuttings; A Ready Reference Receptacle For Scraps Of Print, from our chief sources of knowledge, the Newspapers; with Patent Alphabetical Index, with spaces for Marginal Notes'. This does rather over-sell the  scrapbook's features, and it is hard to see what could be patented so far as the alphabetical sequencing is concerned.
The book begins with the lyrics of a hunting song written by R E Egerton Warburton (possessor of two great Cheshire surnames) of Arley Hall. The first three verses, of six, tell us how the Empress previously hunted for two seasons in Erin (Ireland) – and does rather drone on a bit – but is now in Cheshire (with its "staunch good men and true") for her safety from Republican Irishmen; "she seeks a shire where loyalty, in every bosom dwells".
On an otherwise blank left-hand page there is a delicate signature of the word Elisabeth, which is almost undoubtedly in the great lady's own hand (see below).
There then follows incredibly detailed coverage of every aspect of her stay, described in many thousands of close-set words. There is no indication from which papers the cuttings come, but the majority are in the same font, and it would not be unreasonable to assume it was The Times.
A magazine illustration of Elisabeth in the Armoury Hall at Combermere Abbey. The detail of the room and its contents is very accurate, but it is doubtful that the Empress posed for the artist. Perhaps he gained access to draw the surroundings either before or after creating the mage of her and her companion. Her features are not nearly as distinct and precise as the background
The gushing correspondent  makes the point that Combermere Abbey "has long been identified with sporting and equinine associations". Of the Abbey itself, he writes: "The beautiful seat . . . is as creditable [a] specimen of an English country house and 'demesne' as any that can be found within the confines of Great Britain. The woods surrounding it cannot be surpassed for picturesqueness, and in front of the mansion stretches out one of those famous 'meres' or lakes". Another report described the Abbey, saying "a quieter, neater, or more desirable domicile could not be found . . . it is well away from the scream of the railway engines, the villages, or even the high road" – as it is to this day (and indeed the more modern intrusion of aircraft flight paths).
The Empress's many hunters seem to have been as well known as the most famous racehorses. They included Sweetheart, Sailor, Bright Star and Buttercup; "Many an eye will be curiously bent upon the Prussian-bred Nihilist, by Cambuscan, or upon the Hungarian-bred Sunflower, by Buccaneer."
Wherever the Empress went she was met by huge crowds gawping spectators, and the crush became so much that false itineraries were issued regarding the day's hunting to throw the followers off the scent. The empress took to shielding her face from so many prying eyes with her fan – rather like a modern celebrity shielding herself from the cameras. Another report – of an occasion when the local populace wished to sing to her – notes that "publicity is offensive to her".
Throughout, the detail in the reports of each day's chase is astounding; almost every hedge and covert is named. The Empress was a guest of all the great hunting families of south Cheshire, north Shropshire, and Staffordshire, and seems to have had the best days either at nearby Cholmondeley Castle or with the renowned fox hunter Sir William Watkin Wynn and his Wynnstay Hounds. On the rare days when Elisabeth wasn't hunting it was noted that she was "enjoying a quiet day drag-hunting" or merely exercising the horses.
The scrapbook also includes a number of hand-written invitations to dinner, including one from the Empress's secretary inviting Lord Combermere to dinner in what was of course his own house. When she left after her second sojourn at the Abbey she gave Viscount Combermere a gift of an "elaborately-chased gold snuff box . . . with the initial 'E' formed of diamonds, surmounted by a crown also studded with diamonds". That as well as a very generous rent, which must have been greatly welcomed by the impecunious Viscount – though it was perhaps soon lost across the card table.
Huge crowds watched the Empress's train leave Wrenbury station at the end of her season, and she, for once, acknowledged them. She went on to Windsor Castle, where she was met by the Prince and Princess of Wales, and later was entertained to luncheon by Queen Victoria and several other members of the royal family. Later that evening she set sail from Dover, with "her baggage occupying the greater part of the vessel between the bow and the bridge",  never to returned to Great Britain.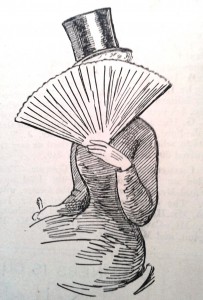 One national newspaper sent a quick-draw artist to Combermere – the Nineteenth century equivalent of the modern paparazzi –  to illuminate their extension coverage of her stay. She was famously averse to publicity though, and at the first hint of attention she would hide her face behind her fan. Undetered the artist made a feature of her shyness  and drew her in the saddle (side-saddle) hiding her features.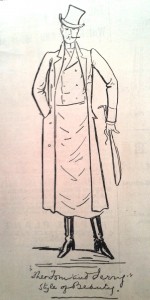 A newspaper artist's sketch of a hunting man, captioned "The Tom and Jerry" style of beauty. This isn't a reference to the television cartoon series, obviously, but to the characters Tom and Jerry Hawthorne in the book 'Life In London' by the sporting writer Pierce Egan.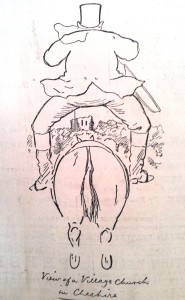 Poking fun at the rural gentry; "A view of a village church in Cheshire" as seen in the gap between a horse's back and the rider's backside. Very droll.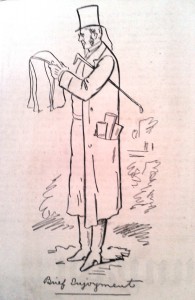 A gentleman reading – the sports pages perhaps? The caption reads "Brief Enjoyment'.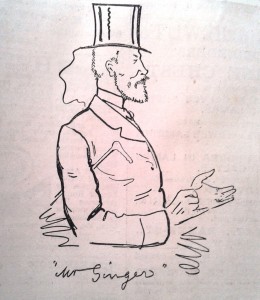 Mr Ginger, and very smart he is too – though sadly we don't know who he was. Not the cord from the back of his top hat to catch it in case it leaves his head.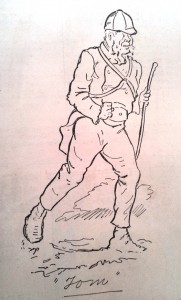 "Tom" – a particularly enthusiastic hunt servant, one would surmise. Did he ever know that he had gained his small place in history?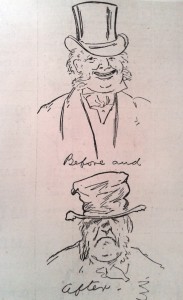 More drollery; having taken a tumble or two is depicted "before" and "after" the hunt.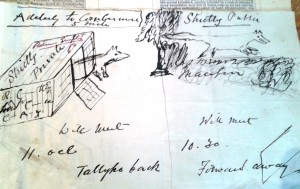 A charming sketch in the scrapbook, doodled on a separate paper and pasted into the binder. It seems to show a fox released from a cage (perhaps provided by a nervous keeper who worried that there might not be a chase for Her Imperial Highness). At the bottom of the sketch it reads "Tallyho back" and "forward away". In the top left corner it says "Adderley to Combermere 5 miles". Adderley is south a couple of miles south of Audlem, close to the main line of the Shropshire Union canal as it heads into Shropshire. Adderley Hall was owned by the Corbet family, who had close links to the Cottons of Combermere. At the time of The Empress's stay at the Abbey, Reginald Corbet was head of the house of Corbet of Adderley , and was known as a great hunting man.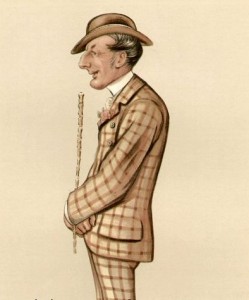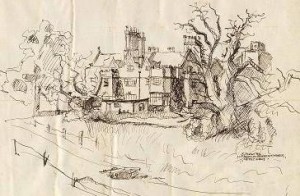 Left: Reginald Corbet, and, right, a sketch of his home, Adderley Hall

 The scrapbook must have been compiled during The Empress's stay because, to our delight, we find that she has signed it – in a very elegant and feminine hand.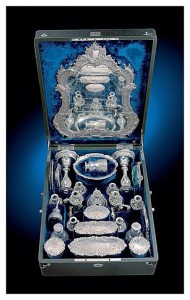 In the summer of 2015 this astonishingly luxurious object – or rather, collection of objects – came to our attention. It is a late-Nineteenth century lady's travelling vanity case – or to be precise, an empress's vanity case. It was owned by Elisabeth, Empress of Austria, and as it predates her first stay, it was almost certainly brought to Combermere Abbey when she visited. Looking after it would have been the responsibility of her lady's maid, and it was quite a considerable responsibility; it comprises thirty sold-silver items in a locking leather case over a wooden frame. It was probably carried into place by a footman as it must have been very heavy, though doubtless with the maid in very close attendance. We can only guess at what the set was worth.
The Empress's beauty regime really was legendary. Her personal hairdresser, Franziska Feifalik, who was originally a stage hairdresser at the Wiener Burgtheater, accompanied her everywhere. Franziska was disapproved of by the rest of the Imperial court as anyone associated with the theatre was considered common and probably immoral, but Elisabeth would not entrust her hair to anyone else.
Her immaculate care of her mistress's very long auburn hair was crucial to the Empress's image. It was so long that she complained that the weight of it gave her headaches, but she suffered for her beauty. Her dressing table was placed alone in the middle of her dressing room, on a pure white sheet, and Franziska had to wear white too, so that any hairs which fell could be seen and gathered up. When she was seated the Empress's hair touched the floor.
Her hair was treated with brandy and fresh eggs, and Franziska Feifalik's attentions took three hours every day. Elisabeth used this time to learn foreign languages, and unsurprisingly given the length of time available for her studies, she spoke, English, French, modern Greek fluently. She also studied Hungarian history in great detail.
Franziska had to present every hair that came out during the brushing to Elisabeth in a silver bowl specially kept for the purpose, for close inspection as to its quality. All grey hairs which had the temerity to appear were promptly removed with tweezers – at least, up until her son's death; after that sad event she allowed them to grow.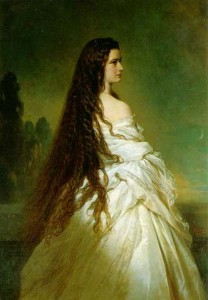 Unlike other grand women of her time Elisabeth did not wear cosmetics or perfume; she relied on her 'natural beauty'. She did indulge herself in exotic and extravagant skin preparations though. She slept without a pillow on a metal bedstead, all the better to retain her upright posture, with either raw veal or crushed strawberries lining her nightly leather facial mask, and often slept with cloths soaked in either violet- or cider-vinegar above her hips to preserve her slim waist, and her neck was wrapped with cloths soaked in Kummerfeld-toned washing water.
She often had massages and saunas, and bathed in goats' milk. To further preserve her skin tone, she took both a cold shower every morning (which in later years aggravated her arthritis) and an olive oil bath in the evening.
After a day's hunting she would have thinly-cut raw veal applied to her face and neck, and then a specially-made leather face mask would be strapped and buckled over her head to hold the meat in place. This treatment was supposed to cure the ravages of wind and rain, and she would endure this all night. Heaven knows what her beloved wolf hounds, who always slept in her bedroom, made of it (and heaven knows what effect it would have had on any would-be lovers who were on the prowl).
It is very likely that she had an eating disorder, associated with her obsession about keeping a tiny waistline. She ate very little in private, but ate heartily at public dinners – and then apparently brought it all up again in her own rooms. She had a secret staircase built at her palace, which lead from the dining room to her bedroom to facilitate this practise – and indeed she had a similar staircase built at Combermere Abbey (despite it not being her house, of course!). She also had her own gymnasium assembled wherever she went, though sadly there is now no evidence of hers at the Abbey.