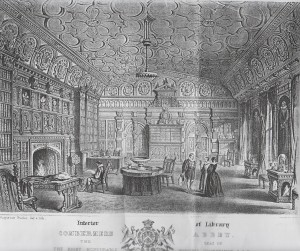 This is a strange image. It's a picture of The Library – but it doesn't make any sense. The detail is very fine and absolutely accurate; look at the joints in the coving in the two corners – they are different from each other, and reflect exactly how they do indeed look, and there is even the falcon above the central panel in the middle of the far wall – as there is today.All the portraits are correct, both between the windows and above the fireplace.
It could at first glance be the room in Tudor times, given the clothing on the figures, except for the fact that the ceiling wasn't inserted until well over a century later, and the coats of arms on the coving in fact date from the mid-Nineteenth century. The central light fixture is wrong though (and how is it supposed to work; where are the candles?), and the table in the middle of the room is obviously High Victorian Gothick Revival. The clock inside the 'cloche' on the right is Victorian, as is the face-height screen to the right of the fire (designed to stop ladies' faces flushing in the glow of the hearth). Also, it is highly unlikely that any Tudor would have such bookcases, filled to the ceiling  with regular-bound books.
This comes from a large format book called 'Mansions of England and Wales', which was published by a man called Edward Twycross, who was, at different times, a very highly regarded silversmith (his assay mark was TWY+),  a solicitor and an author – having been educated at Trinity College Dublin. He was born in 1803 and died at the age of forty nine. His books – there were five volumes in all – are much studied by architectural historians and genealogists.  The volumes were released between 1846 and 1850, and were hugely expensive; they were bound in Morocco leather, with gilded lettering.
The style of the illustration gives this away as being a steel engraving from the early years of Queen Victoria's reign, and it is an imagining; it was a contemporary study of The Library in the time of the first Viscount Combermere, but figures in Tudor dress have been dropped in, in an attempt to re-create the look of the room not long after the Cotton family acquired it after the Dissolution. He would not have known how the room had changed over the centuries, and obviously decided not to bother with such niceties.
The arms at the bottom of the page are those of Viscount Combermere (the coronet symbolises his position in the peerage), but are rather stylised.
The motto; "In Utraque Foruna Paratos" is latin, and means (roughly) "Prepared, Whatever My Fortune". Fortune as in 'fate', not as in Lottery win. The three figures of eight above and below the chevron in the centre are twists of cotton, from the Cotton family arms. The two supporters are falcons.