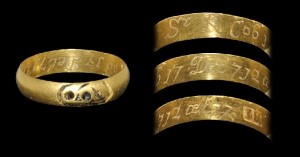 This fascinating gold ring with its ghoulish depiction of a skull has just come to our attention as it is currently being offered for sale by auction. It is inscribed 'Sy R C ob.17 Dec 712 æt 77` for Sir Robert Cotton, first Baronet Combermere, who died on 17th December 1712, age 77. It also bears a maker`s mark of  `BL`, reserved within a square. This is possibly Benjamin Blakeley, a London goldsmith active 1719-20.
Sir Robert Cotton, Baronet, was the head of the fourth generation of the Cotton family to live at Combermere Abbey. He was born in 1635, the fourth child of his father, Thomas Cotton and his second wife, Elizabeth Calveley of Lea in Cheshire (whose mother was a Cholmondeley). Sir Robert inherited from his elder brother, George, who died around 1646 aged twenty one. He was created Baronet by Charles II in 1677 in acknowledgement of his support for the Stuart cause and the Restoration of the monarchy. He did indeed die palindromically aged seventy seven on December 17 1712.
He married Hester Salusbury of Llewenny in Denbighshire in (probably) 1658, which brought huge wealth into the Cotton family. He was twice a Member of Parliament for the Whigs, and was one of the great members of the gentry in Cheshire, Shropshire and Clwyd.
He and Hester had sixteen children, but unlike most Cotton wives, she lost several of her children early in their lives; at least five, and possibly twice that number. Following the death of three sons, the eleventh-born child, Thomas, inherited the title and the estates. He died in 1715, three years after his father, aged forty three. Thomas was succeeded by his brother, Hugh Calverley Cotton (born 1665).
The ring is catalogued as being the 'Property of a Shropshire gentleman; found Shropshire, UK' – which tells us nothing at all. It is described as being "A barrel-shaped hoop with reserved stylised skull to the outer face, black enamelled eye-sockets and details; to the inner face memorial text in an italic hand". It is said to be in "fine condition", and it weighs 3.48 grams. The guide price is £250 to £400.
It is impossible to know who commissioned it, but it would have been a family member (or, remotely but possibly, a very close friend). Given its internal diameter of 17.43mm it is slightly more likely to have been made for a man rather than woman. It could have been either of Sir Robert's sons, Thomas or Hugh, but sadly we cannot know.
It can best be described as a memento mori (from the Latin; 'remember that you will die) – also known as a memento mortis ('remember death'). These terms covered a wide range of reminders of mortality, and were approved of by the Anglican church. We first see them in medieval times, and they became more popular than ever in Victorian times – especially during Queen Victoria's long and irritating widowhood.
They are constant reminders of earthly mortality and the important of seeking Christ's redemption and the forgiveness of sins. The after-life in the shape of Heaven and Hell was ever present. These memento mori run in parallel with ars moriendi ('art of dying'), as part of the macabre death cult which owed more to the darkness of Roman Catholicism than to the relative illumination of Anglicanism. Skulls and skeletons on grave monuments – often still decaying or populated by nibbling worms – are some of the best-known examples.