The Cotton family owned Combermere Abbey from the Dissolution of the Monasteries until 1919. The family originated in north Shropshire, with many familial links in that county, and may, perhaps, have been Anglo-Saxon rather than Norman.
The surname Cotton could well pre-date the Norman invasion. It is probably related to the Anglo-Saxon word 'cotum' from which cottage is derived. As a place name, a version of it appears in Nottinghamshire, North Yorkshire, Cambridgeshire, Oxfordshire, Shropshire, and Northamptonshire. There are two places in Shropshire called Coton; the more relevant of these is a hamlet near Wem – which is undoubtedly the home of the earliest known Cottons. With one 'T' the place name is correctly pronounced 'Coe-Ton', which confirms its Anglo Saxon origin (ton being a homestead or small village).
'Coton in Wem' is mentioned in Domesday Book (spelled 'Cote'), and its ownership had passed from a un-named Anglo-Saxon to the Norman lord William Pantulf, Baron of Wem (or Wemme), as a tenant of the prominent Norman, Earl Roger of Shrewsbury. Coton was in the hundred of Hodnet, which is why, when members of the Cotton family are said to be from Hodnet, they might be – more precisely – from Coton. In Domesday Coton comprised eight households and had a taxation value of two gelds. Its value to its lord in 1066 was said to be four shillings, and in 1086 it was worth double that.
There is a Coton Hall just west of the B5476, which was mentioned in Domesday Book. Nowadays there is a Coton Hall Cricket Club.
Certainly, neither the name Cotton nor any obvious variation of it appears in the list of Norman knights present at the Battle of Hastings in 1066. All Anglo-Saxon land holdings were seized by the conquerors, and there is no evidence of Cottons owning land prior to Sir George Cotton being gifted Combermere after the Dissolution. They might have owned land in Coton, and possibly Coton Hall, or – more likely – held land as sub-tenants, especially if they were of Anglo-Saxon rather than Norman descent.
The family members are recorded as being in a very small number of places between the middle of the Thirteenth century and the middle of the Sixteenth; primarily Hodnet (possibly meaning Coton, as stated above), but also Rudheath, south of Northwich, in Cheshire. It is possible that apart from one excursion in Cheshire the family lives and died in a tiny area for generations, as the vast majority of the population did.
The furthest back we have been able to trace the Cottons who came to own Combermere is Hugh of Hodnet, who was born around 1255, during the reign of King Henry III. His wife, Elizabeth is noted as being a daughter of Hamon de Tittenleigh, who lived in Coton – which is both fascinating and very useful. This union may have given the family its name, possibly as a result of moving to the new father-in-law's lands. The father's name tells us conclusively that he was a Norman descent, and this may have been a union of the two cultures, two centuries after the Conquest.
There is nothing remarkable about this. By this time the Normans and the Anglo-Saxons were considerably inter-bred. There is evidence of intermarriage between Anglo-Saxons and Normans very soon after the Conquest. Many Anglo-Saxons were pragmatic and accepted the fait accompli of the new rulers; others must have regarded one over-lord as being very much the same as any other. Certainly many families made their peace with the Normans very quickly, which the invaders were often keen to accept – with a relatively small force in the country the fewer areas which had to be kept under martial law, the better.
The situation in Cheshire and Shropshire was made rather different by the Anglo-Saxon revolt in the border counties a few years after the Conquest. Following rebellion in the north and east of England, and then in the south-west, the border shires rose up against the Normans. It should be borne in mind that the incomers had a far from easy time in subjugating the natives; many Normans grew tired of the rebellions and returned to their own country, and under a less determined ruler than King William it was not impossible that the occupation would have been abandoned.
The 'Harrying of the North' was King William's response. He adopted an absolute scorched earth policy, burning homes and crops, and killing livestock. Huge numbers of Anglo-Saxons died of starvation, and even by the compilation of the Domesday Book twenty years after the invasion huge areas of the country, including most of Cheshire and Shropshire were described as 'waste' and were of very little value. Chester was briefly a stronghold of Anglo-Saxon resistance, before it was taken and razed by the Normans. This operation showed the invaders' ferocity; they undertook it ruthlessly, despite the fact that they were destroying what was now a source of their own wealth. It was two or three generations before both Anglo-Saxons and Normans could really begin cultivating much of the land again.
So, the union of Hugh of Coton and Elizabeth de Tittenleigh in the second half of the Thirteenth century may have been the point where an otherwise obscure Anglo-Saxon family married well and thus were worth documenting. The first of many good marriages for the men of the Cotton line. Unfortunately no other reference to the de Tittenleighs can be found at present.
Other families with the surname of Cotton emerged from the Cotons of Wem, particularly the Cotons of Bellaport (some of whom migrated to Nottinghamshire), but there is neither space nor time to concern ourselves with them.
With just that one geographical change – Hugh Cotton (born circa 1335) being known as 'of Rudheath' (Rudheath is a village south of Northwich in Cheshire, sixty miles north of Cotton) – eight generations of Cottons lived in north Shropshire.
One marriage of interest is that of Margery Cotton (died 1398) in 1364, daughter of Hugh Cotton of Rudheath, to Sir Hugh de Venables of Kinderton (or Kynderton), born circa 1330. Their eldest son, Richard (1365 – 1403), became Baron of Kinderton and his daughter Joan (circa 1384 – 1420) married into the Grosvenor family (Thomas). The Venables of Kinderton were based close to Rudheath.
Hugh Cotton of Rudheath had no sons and the line passed to his younger brother, Richard. Richard seems to have lived to be 95 years old. He was recorded as being of 'Coton in Shropshire', and his son, Roger, married into the Grymelond family of Alkington, north of Wem; halfway to Whitchurch. His son, William (born 1400), was also of Alkington.
The family's path through English history might have remained anonymous and provincial had it not been for the brothers George and Richard. They took the family on to a national stage as courtiers to both Henry VIII and his illegitimate son Henry Fitzroy, Duke of Richmond. Sir George and Sir Robert married sisters; Mary and Jane Onsley (several spellings available) of Catesby Castle in Northamptonshire, daughters of John Onsley, who – interestingly, died on November 11 1537 at Cotton near Wem, and his wife Jane died at Albrighton in Shropshire (in either or both cases while visiting his daughter, perhaps?). Gifting Combermere Abbey, just a few miles to the north east, to Sir George Cotton in 1539 made geographical sense – and it rocketed the family up the social ladder. They were then major landowners and solid members of the gentry.
John Cotton (1464 – 1558) is recorded as being of Alkington, and though the Tudor years were ones of great social mobility, it is unlikely that the brothers rose to national prominence from the very lowest levels of society. In some sources John is described as 'gentleman', suggested some level of social status, and it is likely that George and Richard were well educated. If the brothers' in-laws visited Coton (and possibly died there) there must have been a family seat, and presumably one worth of gentle folk used to sleeping in a castle.
There was a Ralph Cotton of Alkington, who married Jane Smith of Newcastle-under-Lyme in Staffordshire (daughter of one John Smith – unhelpfully) in the middle of the Sixteenth century. They had eleven children (Alan, Joan, Roger, Catherine, John, Ellen, unknown name, Margaret, Alice, William, and Eleanor), of whom the eldest was born in 1558, and became Sir Allan Cotton. He was recorded as being born in Whitchurch, and held the office of Lord Mayor of London 1625-6. At the time of his death in 1628 he was living in Edgware in London, and was buried in the church of Saint Martin Orgar in the City of London. His occupation was given as draper; a very successful one, one imagines. He had thirteen children by his first wife, Eleanor More (daughter of Edmund More, or Moor, also a draper), and none by his second, Lucy. The last child of Allan and Eleanor was Sir Rowland Cotton. There is no obvious relationship with the Cottons of Combermere, but more research may uncover one.
The earlier coats of arms, as seen in the coving in The Library at Combermere, created by the first Viscount may well be suspect and should be approached with a little caution. Some Victorian genealogists credit every head of the house of Coton with a knighthood, right back to Hugh Coton. These titles do not appear in other sources – only in volumes which were created for subscribers, and the temptation to aggrandise one's subscribers' ancestors might well have been one which the authors could not resist.
There is a Cotton family in Suffolk which definitely dates back to the Normans – and beyond that to one Ivo Bellomontensis (1026 – 1059) of Cotentin in Normandy. The invading member of the family was John de Cotentin (1042 – 1105), who was born and died in Normandy (as was his wife, Marie de Normandie). Their surname derives from the place name, Cotentin, which is a peninsula near Cherbourg. There is no connection between the Suffolk Cottons and the Shropshire Cottons.
Hugh of Hodnet
BORN: Circa 1255
MARRIED: Elizabeth de Tittenleigh (born circa 1270), daughter of Hamon de Tittenleigh (born circa 1240 at Coton in Shropshire)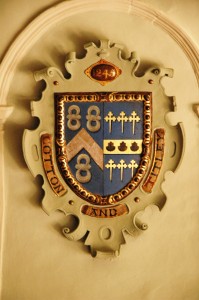 The joined arms of Cotton and Titley or Tittenleigh from the Nineteenth century coving in The Library at Combermere Abbey
CHILDREN:
Alan, heir
Alan de Cotton of Hodnet
BORN: 1290
DIED: 1320
MARRIED: 1319, Margaret of Acton (born c. 1295), daughter of Roger Hellesby of Acton, born c. 1273. Possibly the Acton south west of Shrewsbury, but as to be likely the Acton just north of Nantwich.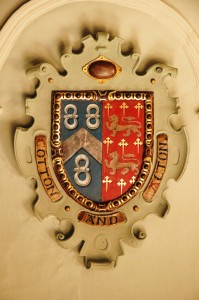 The marital arms of the Cotton and Acton families
CHILDREN:
Hugh, heir
Edmund, married Katherine (c. 1325 – ?); one child, William, married Agnes de Ridware
Hugh de Cotton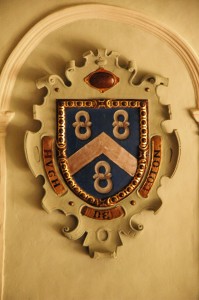 Arms of Hugh Cotton of Cotton in the county of Shropshire
BORN: c. 1313
MARRIED: Isabel de Heyton (or Hayton)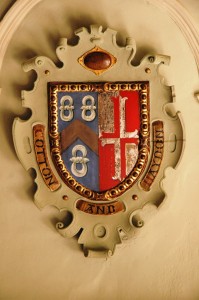 Arms of Cotton and Hayton. Haydon or Heyton
CHILDREN:
Hugh, heir
Richard
Perkin, married Margery
Hugh Cotton of Rudheath
BORN: c. 1335
CHILDREN:
Margery, married Sir Hugh de Venables of Kinderton, four or six children
HEIR: Richard, brother
Richard Cotton of Coton in Shropshire
BORN: 1336
DIED: 1431
Roger Cotton
BORN: 1368 at Alkington
MARRIED: Elen (or Ellen) Grymelond (1373 – 1464), daughter of John Grymelond (1341 – ?) of Alkington, Shropshire
CHILDREN: William 
 William Cotton
BORN: 1400
CHILDREN:
William, c. 1432-5 heir
John (b c 1440 d aft 1483) of Alkington married Catherine Constantine 
 William Cotton
BORN: c. 1432-5
MARRIED: 1460, Agnes Yonge (or Young) of Caynton (1437 – 1524), daughter of Philip Yonge (1405 – 1491) and Agnes Bannerton (born 1410)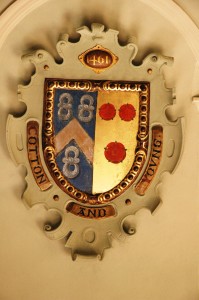 Cotton – Young/Yonge
CHILDREN:
John, heir 
John Cotton
BORN: 1464
Lived in Alkington, Wem
DIED: 1558
MARRIED: Cecily Mainwaring  ? – c. 1516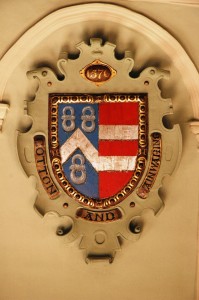 The arms of Cotton and Mainwaring. The date of 1570, if it has any veracity, can only be the year of Cecily's death.
CHILDREN:
Sir Richard 1497 – 1556, heir, knighted, manor of Bedhampton, Hampshire, married Jane Onsley
Sir George 1505 – 1545
 Sir George Cotton
BORN: 1505
OFFICE: Sheriff of Denbighshire.
OFFICE: Esquire of the Body to King Henry VIII.
DISTINCTION: Knighted.
PROPERTY: Together with wife, was granted by the King, the abbey of Combermere, Cheshire 1542. Together with wife, was granted by the King, the manor of Wilkesley, Cheshire 1542. Together with wife, was granted by the King, the manor of Pulton, Cheshire 1543.
DIED: 25.3.1545
MARRIED: Mary Onsley of Catesby Castle, Northamptonshire.
CHILDREN:
Winifred 1528 – ?
Dorothy  1530 – 6.6.1608
Elizabeth  c. 1536 – 1593/4
Richard (heir)  1539 – 14.6. 1602
Mary  ? – 16.11.1580 = Henry Grey, 6th Earl of Kent (1541 – 31.1.1615). No issue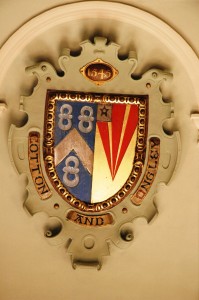 Arms of Cotton and Ongley/Onsley
Sir Richard Cotton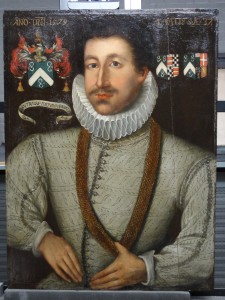 Richard Cotton; the portrait inset into the fire surround in The Library
BIRTH: 1539 or 1540
PROPERTY: Built the Combermere manor house, incorporating the remains of the Abbey, from 1563
DIED: 1602
MARRIED: Firstly, 6.1.1559 or 1560, Mary Mainwaring of Ightfield, Shropshire (1541 – 14.6.1578), daughter of Arthur Mainwaring of Ightfield (1525 – 1590) and Dorothea (nee Corbet)
CHILDREN:
George 1560 – 1647   heir
Arthur  1562 – 1649
Mary  1563 – 1647
Andrew  1564 – 1640
Elizabeth 1566 – ?
Winifred 1568 – ?
Dorothy  1572 – 22.4.1647
Frances c. 1573 – ?  married George Abell, 1599
MARRIED: Secondly, 14.6.1578. Jane or Joane Seyliard, c 1534 – c 1584. Daughter of William Seyliard of Chiddingstone, Kent.
CHILDREN:
Richard
Thomas
Robert
Jane
MARRIED: Thirdly, 1593, Philippa Dormer, born 1549 (widow of John Dormer)
CHILDREN:Philip, born 1598
Bridgett, born 1600
George Cotton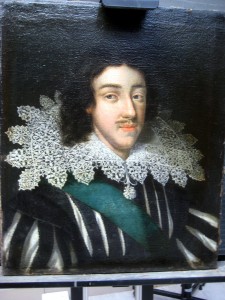 The fourth of the oil-on-wood portraits set into the fire surround in The Library; almost certainly George Cotton.
BORN: 1560
DISTINCTION: Esquire.
RESIDENCE: Of Combermere
PROBATE: Will dated 3 May 1647; codicil dated 17 Aug 1647.
PROBATE: Named in the will of his brother-in-law, George ABELL.
DIED: c 1647
MARRIED: Mary Bromley of Shifnal  c. 1569 – 1647, daughter of Sir George Bromley, Justice of Chester, and Elizabeth, daughter of Sir Thomas Lacon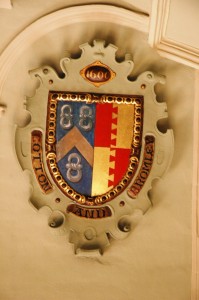 The marital arms of the Cotton and Bromley families
CHILDREN:
Elizabeth  c. 1588 – 1647
Martha  c. 1590 – ?
Dorothy c. 1592 – ?
Frances  c. 1594 – ?
Judith  c. 1596 – ?
Anne   c. 1598 – ?
Grace c. 1602 – ?
Joyce  c. 1604 – ?
Margaret  c. 1605 – ?
Thomas 1.8.1609 – c. 1646  heir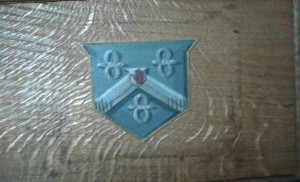 Cotton family device on the early-Seventeeth century box pews in Wrenbury church
Thomas Cotton
BIRTH: 1609
DISTINCTION: Esquire.
RESIDENCE: Of Combermere
DIED: c. 1646
MARRIED: firstly, 10.11.1624 Frances Needham ? – c. 1629, daughter of Robert Needham, Viscount Kilmorey,  born Great Budworth, Cheshire, died 1653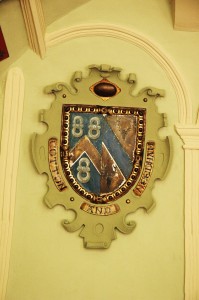 The arms of Cotton and Needham
CHILDREN:
George (heir apparent) c. 1625 – 1646 or 1647
Mary  c. 1627 – 1646
Frances  c. 1629 – ?
MARRIED: secondly, 10.3.1635. Elizabeth Calveley of Lea, Cheshire, daughter of Sir George Calveley of Lea, and Mary Cholmondeley of Cholmondeley, 1.8.1609 – c. 1648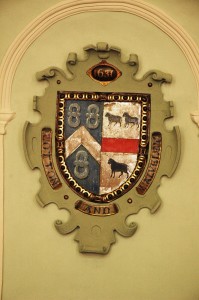 Cotton – Calverley
CHILDREN:
Sir Robert Bt. (heir) 1635 – 17.2.1712
Lieutenant-Colonel Charles, Coldstream Guards c.1637 – ?
Lettice c. 1642 – c. 1710
Thomas William
George Cotton
BIRTH: c. 1625
DISTINCTION: Esquire.
RESIDENCE: Of Combermere
DIED: c. 1646
MARRIED: c. 1644. Mary Smith of Wybunbury, ? – c.1645
CHILDREN:
Mary c. 1645 – ? = Captain Mainwaring of Nantwich
Frances = Colonel Richard Fletcher of Morley, Cheshire
Sir Robert Cotton, Baronet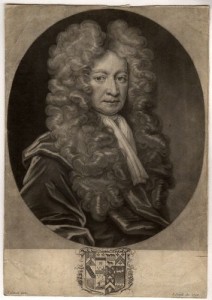 Sir Robert Cotton, first Baronet, in later life. This is credited as being he, but the arms below the portrait do not match any Cotton arms.
1635 – 1712
BIRTH: Aged 77 years in 1712 at time of death
DISTINCTION: Baronet, title created 29 Mar 1677 by Charles II. Previously knighted, 1660. MP for Cheshire 1679 – 1702.
RESIDENCE: Of Combermere
PROBATE: Will dated 30 Oct 1710; will proved 29 Dec 1712 DIED: 17.12.1712
MARRIED: c. 1658. Hester Salusbury of Llewenny, Denbighshire  ? – 1710. Sister and heiress of Sir John Salusbury, fourth baronet of Llewenny. Only daughter of Sir Thomas Salusbury, second baronet.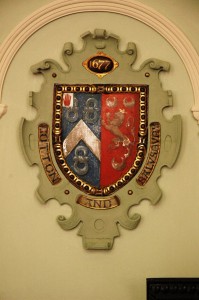 Marital arms of Cotton and Salusbury
CHILDREN:
Hester  c. 1659 – c. 1690 = John Lacon of West Coppice, Shropshire
Sidney (female)  c. 1660 – ? = Nathanial Lee of Darnhall, Cheshire
Anne  c. 1661 – 22.8.1710 = Sir Thomas Taylor of Kellis, County Meath, Ireland
Arabella c. 1662 – ? = Sir Henry Tichborne of Beaulieu, Dorst (later Lord Ferrard)
John  c. 1663. Died in infancy
Hugh Calverley (heir apparent) c. 1665 – ? Did not inherit. Married c. 1689, Mary Russell of Laughharne, c. 1669 – ? Daughter of Sir William Russell. After Hugh's death Mary married Lord Arthur, second son of Henry, Duke of Beaufort.
Catherine  c. 1691 – ? married Thomas Lewis of St Pierre, Monmouthshire.
Penelope c. 1666 – c. 1710
Robert  c. 1667, died in infancy
Jane  c. 1669, died in infancy
Jane c. c.1671 – c. 1710
Sir Thomas Bt. Heir. C. 1672 – 12.6.1715
George  c. 1674 – 8.1.1702
Catherine  c. 1675, died in infancy
Mary = Sir John Fowler of Harnage Grange, Shropshire
Elizabeth  ? – 5.5.1712 = Sir William Glegg of Gayton, Staffordshire
Charlotte  c. 1682 – ?  unmarried
Sir Thomas Cotton, Baronet
c. 1672 – 1715
RESIDENCE: Llewenny, Denbighshire.
DISTICTION: Second Baronet. Inherited following the death of his his elder brother, Hugh, date unknown
PROBATE: Will dated 24 May 1715; will proved 11 Jul 1715
DIED: 12.6.1715 Dean's Yard, Westminster, Middlesex, England
MARRIED: 1689. Philadelphia Lynch, 5.5.1675 – 30.12.1758, daughter and heiress of Sir Sir Thomas Lynch of Esher, Surrey, Governor of Jamaica, Attorney-General to King Charles I, and Lord Keeper of the Great Seal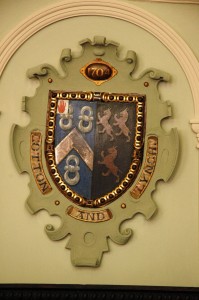 The joined arms of Cotton and Lynch
CHILDREN:
Thomas Salusbury. Heir apparent.  c. 1691 – 1710
Henry  c. 1692. Died young.
Anne  c. 1693  Died young
Sir Robert Salusbury. Heir. 1695 – 27.8.1748
Philadelphia  19.3.1698 – ? = Thomas Boycott of Hinton, Shropshire
Stephen  Salusbury 1700 – 1727
Hugh Calveley, c. 1701 – 24.6.1702
John Salusbury  1708 – 1730
Sophia  c. 1704 – c. 1756 unmarried
Sir Lynch Salusbury. Heir. c. 1706 – 14.8.1775
Hester Maria  c. 1707 – 20.8.1733 = John Salusbury of Bachecraig, Flint (see appendix)
Sidney Arabella   female, c. 1709 – 30.1.1781  unmarried
George Calveley  c. 1710 – 1715
William Salusbury  c. 1712 – c. 1715
Vere   female, c. 1713 – 23.9.1730
Henry Salusbury  c. 1714 – ?, died young
Sir Robert Salusbury Cotton, Baronet
1695 – 1748
KINSHIP: Son and heir.
CHRISTENED: 2.1.1695. St. Margaret's, Westminster, Middlesex, England
DISTINCTION: Third Baronet
RESIDENCE: Combermere
RESIDENCE: Llewenny
DISTINCTION: Baronet
PROBATE: Will dated 15 Aug 1745; will proved 14 Jan 1749
DIED: 27 Aug 1748. Buried in Wrenbury church
MARRIED: c. 1720, Lady Elizabeth Tollemache, 1682 – 16.8.1745, of Hellingham, Suffolk. Daughter of Lionel Tollemache, third Earl of Dysart.
CHILDREN: None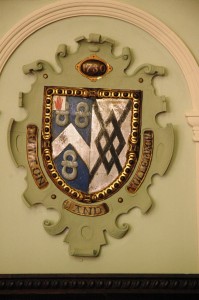 Cotton and Tollemache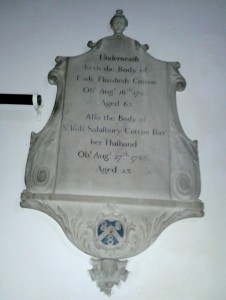 Memorial to Sir Robert Salusbury Cotton (died 1748), whose name was added to that of his wife, Elizabeth (died 1745) in Wrenbury church.
Sir Lynch Salusbury Cotton, Baronet
1706 – 1775
KINSHIP: Brother and heir of Sir Robert Cotton, Baronet.
BIRTH: c. 1706
RESIDENCE: Of Llewenny
DISTINCTION: Fourth Baronet, after brother Sir Robert Salusbury's death in 1748
PROBATE: Will dated 12 May 1775; will proved 20 Sep 1775
DIED: 14 Aug 1775
MARRIED: Circa 1738, Elizabeth Abigail Cotton 1714 – 4.1.1777  daughter of Rowland Cotton of Bellaport, Shropshire and Etwell, Derbyshire, born c. 1669.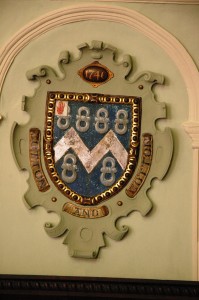 The Cotton and Cotton arms, bring together two branches of the family
CHILDREN:
Elizabeth, married Colonel Thomas Davenant (1782) of Drayton, father of Sir Corbet Corbet (married Elizabeth's sister, Hester; below)
Philadelphia  1738 – 1819. Married Henry Shelley of Lewes, Sussex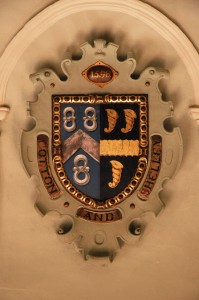 The arms of Cotton and Shelley in The Library. The date of 1596 makes no sense in the chronology of the Cottons of Combermere
Sir Robert Salusbury, heir. 1739 – 24.8.1809
Mary c. 1740, married Reverend Finch
Lynch Salusbury c. 1742 – c. 1772
William c. 1774 – 1781, died unmarried
Very Reverend George c. 1745 – 10.12.1805. Dean of Chester. Married Catherine Maria, eldest daughter of James Tomkinson of Dorfold Hall, Nantwich
Captain Richard c. 1746 – 1781 Died in action, Camden, USA. Married 1734. No known children.
John c. 1748 – ? died young
Vice-Admiral Rowland c. 1750 – 30.11.1794. Married Elizabeth Aston of Aston, Lancashire, daughter of Sir Willoughby Aston. Vice-Admiral Rowland Cotton and Elizabeth were the parents of Sir Willoughby Cotton, 1783 – 1860, Commander of the forces in Jamaica 1829–1834, Lieutenant, Governor of Plymouth 1835–1840, Commander of the Bengal Army 1838–1840, Commander-in-Chief of the Bombay Army 1847–1850. KCB 1838. GCB 1840, General from 1854. Knight Commander, Hanover Order, Knight Grand Cross of the Order of the Bath, Military General Service Medal with 3 Clasps (Burgos, Vittoria, Nive), Army of India Medal with AVA clasp, Ghuznee Medal, Order of the Dooranee Empire. Participated in the Peninsular War, Waterloo Campaign, First Anglo–Burmese War, Great Jamaican Slave Revolt, First Anglo-Afghan War. Married Lady Augusta Maria (1806), daughter of the Earl of Coventry. Children: Augusta Mary (married Henry Vaughn Brooke), Willoughby Cotton (1807 – 1846), probably unmarried, died childless.
Henry Calveley Cotton 1750 – 15.5.1837. Married to Matilda (daughter and heiress of John Lockwood of Dews Hall, Essex), died 1848. Had two sons: Robert (died 1824), Rowland (died 1823). Acquired Adderley Hall, Shropshire from Sir Corbet Corbet.
Salusbury c. 1751 – ?
Hester Salusbury 6.2.1753 – ?. Married Sir Corbet Davenant, later Corbet Corbet, Baronet Of Stoke-on-Trent, Staffordshire, 1772, at Wrenbury. Son of Colonel Thomas Davenant of Pembridge, Herefordshire, and Anne Corbet (second wife) of Stoke-on-Tern, Shropshire. Sir Corbet took mother's surname. Anne was daughter of Sir Robert Corbet c. 1670 – 1740.
Thomas. Married, 1779, Mary Atwick, daughter and co-heiress of William Atwick of Middlesex.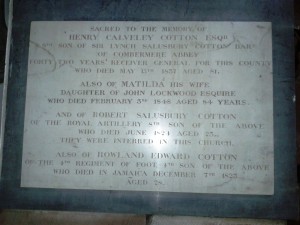 Memorial plaque in Wrenbury church for Henry Calverley, Matilda, Robert, and Rowland Cotton. Both sons were military officers; Rowland died in Jamaica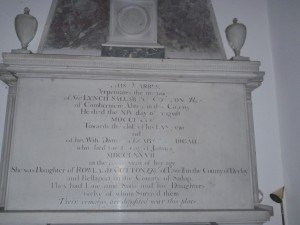 Memorial in Wrenbury church for Sir Lynch Salusbury Cotton (died 1775) and his wife Dame Elizabeth Abigail Cotton (died 1777). Note is made of that fact that a dozwn of their children survived them.
Sir Robert Salusbury Cotton, Baronet
1739 – 1809
KINSHIP: Son and heir.
BIRTH: 1739
DISTINCTION: Fifth Baronet
RESIDENCE: Combermere
RESIDENCE: Llewenny
DIED: 24.8.1809, Combermere Abbey
MARRIED: 1767, Frances Stapleton of Bodrhyddan, Ruthin, Denbighshire (died 1825). Daughter and co-heiress of Colonel James Russell Stapleton of Bodrhydden, Flint.
CHILDREN:
Robert Salusbury  11.9.1768 – 1809
Frances   1769 – 1818. Married, 10.1.1792, Robert Needham, Viscount Kilmorey, 1746 – 1818, son of John Needham, Viscount Kilmorey, 1710 or 1711- 29.5.1791
Penelope  31.12.1770 – 1786
Hester Maria  1772 – 20.3.1845
Field-Marshal Sir Stapleton Stapleton-Cotton, Viscount Combermere of Bhurtpore   14.11.1773 at Llewenny – 21.2.1865 at Clifton, Bristol
Reverend William  ? – 16.8.1853
Sophia  c. 1777 – 24.5.1838, married Sir Henry Mainwaring of Over Peover, Cheshire.
Lieutenant-Colonel Lynch c. 1780 – 1808 in India. Married Louisa Margaret (who secondly married General Sir William Lumley KC)..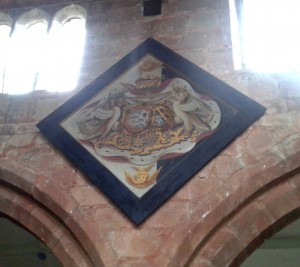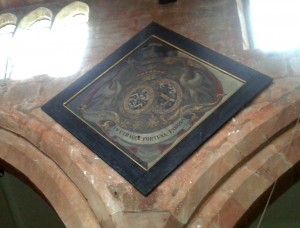 Cotton family coats of arms in the nave at Wrenbury church.
Field-Marshal Sir Stapleton Stapleton-Cotton, Viscount Combermere of Bhurtpore
Stapleton Cotton,  first Viscount Combermere
1773 – 1865
BORN: 14 Nov 1773  Llewenny Hall
SURNAME: Took the surname of STAPLETON before that of COTTON by Royal licence, 21 Nov 1827.
KINSHIP: 2nd but 1st surviving son and heir.
EDUCATION: Admitted Westminster School, 1785-1789; Hon, D.C.L. of Oxford, 1830.
MILITARY: 2nd Lieutenant – 23rd Regiment Royal Welsh Fusiliers, 1790; Lieutenant, 1791; Captain – 6th Dragoon Guards, 1793; Major, 1794; Lieutenant-Colonel – 25th Light Dragoons, 1794; Colonel – army; Lieutenant-Colonel, 16th Light Dragoons, 1800; Major-General, 1805; Lieutenant-General, 1812; General, 1825; in command of the whole allied Cavalry, 1811-1814; Colonel – 20th Light Dragoons, 1813-1818; Colonel – 3rd Light Dragoons, 1821-1829; Colonel – 1st regiment of Life Guards and Gold Stick, 1829-1865; Field Marshall, 1855.
MILITARY:  Served in Flandersat Prémont and Catteau, 1793-1794; commanded his regiment at the Cape of Good Hope 1796-1797; served against Tippoo Sahib at Malavelly, and at the siege of Seringapatam, 1799; in command of a Brigade in the Peninsula, 1809; when in command of the 1st division of calvary he covered the retreat to Torres Vedras, 1809; as 2nd in command under Wellington, he led the charge at Salamanca, to victory, 1812; fought at the great victory of Toulouse, 1814; in command of the allied Cavalry in France, 1815 till the end of 1816; Commander in Chief in the East Indies, where he restored the English supremacy by his gallant capture of Bhurtpore, 1825.
OFFICE: Member of Parliament (Tory) for Newark, 1809.
OFFICE: Governor and Commander in Chief of Barbados, 1817-1820.
OFFICE: Governor of Sheerness, 1821-1852.
OFFICE: Commander in Chief, 1822-1825.
OFFICE: Privy Councillor, 1822.
OFFICE: 2nd member of the India Council, 1825-1829.
OFFICE: Privy Councillor, 1834.
OFFICE: Constable of the Tower of London and Lord Lieutenant of the Tower Hamlets, 1852-1865.
ACHIEVEMENTS: For his signal services at Talavera, 28 Jul 1809, he received the thanks of Parliament; for leading the victorious charge at Salamanca, he again received the thanks of Parliament, 1812.
MEDALS AND AWARDS: A medal for his service in battle; gold cross with clasp, silver medal with three clasps for his military service in battle.
HONORS: Knight of the Bath, nominated, 1812; Knight Grand Cross of the Order of the Bath, 1815; Knight Grand Cross of the Hanoverian Order, 1817; Knight Companion of the Order of the Star of India, 1861
HONORS: Knight of the Grand Cross, of the Tower and Sword of Portugal, 1813; of St. Ferdinand of Spain and of Charles III of Spain.
TITLES: Succeeded father in 1809 as sixth Baronet.
TITLES: Created Baron Combermere, 1814; created Viscount Combermere of Bhurtpore, 1827
RESIDENCE: Combermere from 1809.
FINANCES: A pension of £2,000 per year to him and his two successors.
DIED: 21 Feb 1865, Colchester House, Clifton, Gloucestershire, England. Buried in Wrenbury church
MARRIAGE: Firstly, 1801, Anne-Marie Pelham-Clinton of Clifton, Bristol, 29.7.1783 – 31.5.1807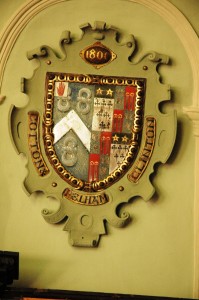 Arms of Cotton and Pelham Clinton
CHILDREN:
Robert Henry Stapleton-Cotton, heir apparent,  19.1.1802 at Galway, Ireland – 13.2.1821. Died unmarried.
MARRIAGE: Secondly, 18.6.1814 at Lambeth Palace, Caroline, daughter of William Fulke Greville of Dover, Kent. Couple lived apart from 1830 until her death in 1837.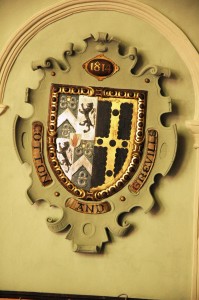 The Cotton – Greville coat of arms
CHILDREN:
Caroline Frances  1815 (Malmaison, France) – 10.5.1893. Married, 1837, Arthur Hill, Lord Hillsborough, son and heir of the Marquis of Downshire.
Wellington Henry Stapleton, heir, second Viscount Combermere of Bhurtpore. 24.11.1818 at Bridgetown, Barbados – 1.12.1891 in London. Married Susan Alice, daughter of Sir George Sitwell.
Meloria Emily Ann  ? – 18.9.1897. Married, 1853, John Charles Frederick Hunter of Straidarran, County Londonderry.
MARRIAGE: Thirdly, on 2.10.1838, Mary Woolley Gibbings of Kilbolane, County Cork, Ireland  1799 – 1889 (died in Bedford)
CHILDREN: None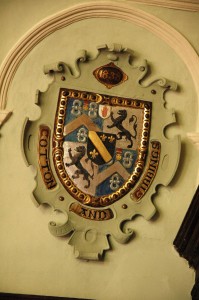 The Cotton – Gibbings shield in The Library at Combermere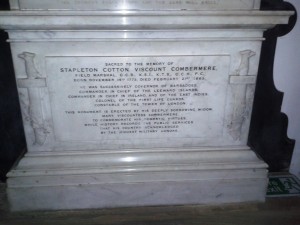 Memorial in Wrenbury church to Field-Marshal Sir Stapleton Stapleton-Cotton, Viscount Combermere of Bhurtpore (died 1865). No mention is made of his wives.
Wellington Henry Stapleton-Cotton, second Viscount Combermere of Bhurtpore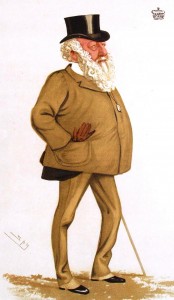 The second Viscount Combermere
1818 – 1891
BORN: 24 Nov 1818, Bridgetown, St. Michael, Barbados, Windward Islands, Lesser Antilles, West Indies
KINSHIP: Only surviving son and heir, being by 2nd wife.
EDUCATION: Eton; matriculated at Oxford (Christ Church), 1837.
MILITARY: Entered the army; Captain – 1st Life Guards, 1846; Secretary to the Master General of the Ordnance, 1852; Colonel – army, 1861; retired, 1866.
OFFICE: Member of Parliament (Conservative), for Carrickfergus, Ireland 1847-1857.
TITLES: Succeeded father, in 1865, as Viscount Combermere of Bhurtpore, title created 1827; as Baron Combermere, title created 1814; as a Baronet, title created 29 Mar 1677.
DIED: 1 Dec 1891, St. James's Place, Westminster, London, England. Buried at Wrenbury church.
PROBATE: Will dated 30 Nov 1887; codicil dated 20 Feb 1888; will proved 17 Feb 1892
MARRIED: At Eckington, Derbyshire, 29,7.1844, Susan Alice Sitwell of Derbyshire 1819 – 12.8.1869, daughter of Sir George Sitwell, Bt.
CHILDREN:
Robert Wellington Stapleton, third Viscount Combermere of Bhurtpore, 16.6.1845 – 20.2.1898. Married, 1866, Charlotte Anne, daughter of Jacob Fletcher of Peel Hall, Lancashire; divorced 1879.
Caroline Susan Mary 1.11.1846 – 28.81916. Married Lieutenant-Colonel Cecil Lennox Peel, of Easthampstead, Berkshire on 3.12.1867, 18.4.1830 – 27.4.1910. Only son of Lawrence Peel and Jane Lennox.
Hester Alice 5.5.1851 on Anglesey – 17.3.1930. Married Alexander Victor Paget 25.4.1839 – 26.10.1896 on 26.8.1880. His heir, third of four children, was Charles Henry Paget, sixth Marquess of Anglesey of Plas Newydd, Anglesey.
Colonel Richard Southwell George, 9.10.1849 – 24.11.1925. Colonel in the Scots Guards. Married, 1870, Honourable Jane Methuen, daughter of Frederick, second Baron Methuen of Corsham.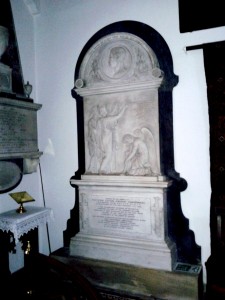 Angels mourn Wellington Henry Stapleton-Cotton, 2
nd
Viscount Combermere of Bhurtpore (died 1891) in Wrenbury church.
Robert Wellington Stapleton-Cotton, third Viscount Combermere
1845 – 1898
BORN: 16.6.1845, Upper Grosvenor Street, Westminster, Middlesex,
KINSHIP: 1st son and heir.
EDUCATION: Eton.
TITLES: Succeeded father, in 1891, as Viscount Combermere of Bhurtpore, title created 1827; as Baron Combermere, title created 1814; as a Baronet, title created 29 Mar 1677.
DIED: 20.2.1898, 11 Duchess Street, Marylebone.
BURIED: Wrenbury church
PROBATE: Will dated 3 Feb 1890; codicil dated 1 Feb 1898; will proved 10 May 1898
MARRIED: Firstly, on 2.8.1866, Charlotte Anne Ellis-Fletcher of Deans, Lancashire. Divorced 20.11.1879
CHILDREN:
Madeline  c.1870 – ?
Cecil  c 1879 – ?
MARRIED: Secondly, on 22.6.1880, Isabel Marian Chetwynd of Grendon, Warwickshire, daughter of Sir George Chetwynd, Bt. 10.2.1851 – 17.9.1930
CHILDREN:
Francis Lynch Wellington, heir, 29.6.1887 – 8.2.1969
Francis Lynch Wellington Stapleton-Cotton, fourth Viscount Combermere of Bhurtpore
Francis Lynch Wellington Stapleton-Cotton
1887 – 1969
BORN: 29 Jun 1887, Dover
KINSHIP: Only son and heir, by 2nd wife.
EDUCATION: Harrow.
TITLES: Succeeded father, in 1898, as Viscount Combermere of Bhurtpore, title created 1827; as Baron Combermere, title created 1814; as a Baronet, title created 29 Mar 1677.
RESIDENCE: Sold Combermere Abbey to Sir Kenneth Crossley 1919
DIED: 8.2.1969
MARRIED: Firstly, on 30.10.1913, Hazel Louisa Agnew (daughter of Henry de Courcy Agnew); dissolved 1916
Married: Secondly, 1927, Constance Mary Katherine Drummond  ? – 29.6.1968
CHILDREN:
Michael Wellington, heir, 8.8.1929 – 3.11.2000
Michael Peter Dudley 6.3.1932 –
Michael Wellington Stapleton-Cotton, 5th Viscount Combermere of Bhurtpore
1929 – 2000
BORN: 8 Aug 1929
KINSHIP: 1st son and heir.
EDUCATION: Eton; King's College, London.
TITLES: Succeeded father, in 1969, as Viscount Combermere of Bhurtpore, title created 1827; as Baron Combermere, title created 1814; as a Baronet, title created 29 Mar 1677.
DIED: 3 Nov 2000
MARRIED: 4.2.1961, Pamela, Elizabeth Jill Coulson
CHILDREN:
Tara Christabel  21 Nov 1961 –
Sophia Mary  20.7.1963 –
Thomas Robert Wellington, heir, 30.8.1969 –
Thomas Robert Wellington Stapleton-Cotton, 6th Viscount Combermere of Bhurtpore
1969 –
BORN: 30.8.1969
Succeeded father, in 2000, as Viscount Combermere of Bhurtpore, title created 1827; as Baron Combermere, title created 1814; as a Baronet, title created 29 Mar 1677.
MARRIED: June 2005, Caroline Sarah Irby  21.5.1977 –
CHILDREN:
Laszlo Michael Wellington, heir, 20.8.2010 –
Elodie 15.12.2012 –